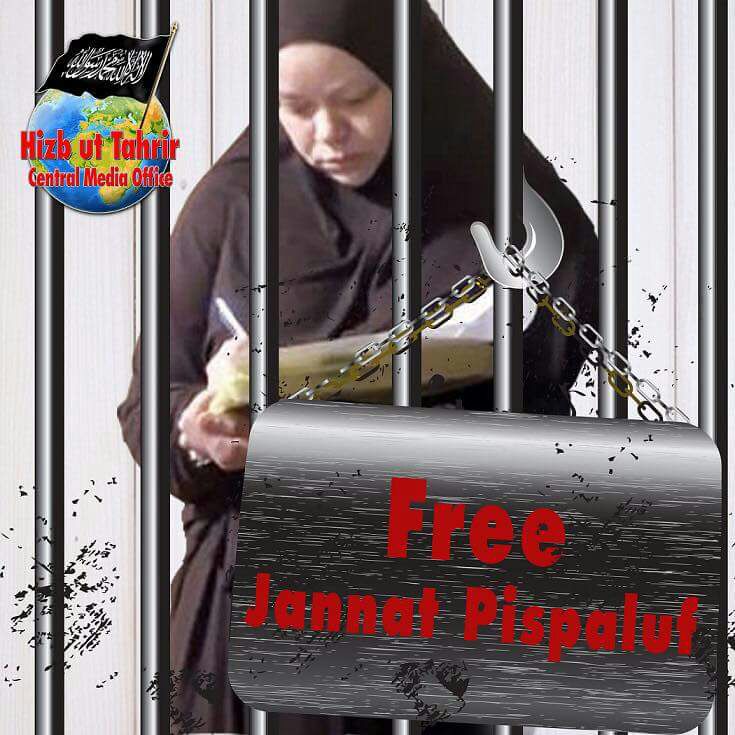 Nchi ya Urusi Ndio Gaidi, Sio Muislam Mchamungu Bi Jannat Bespalova
Mpaka muda huu mamia ya Waislamu wanafungwa katika majela ya Urusi kwa sababu ya kushiriki kwao kufanyakazi na Hizb-ut-Tahrir.  Wanapewa tuhuma za uwongo za 'ugaidi' kufuatia maamuzi ya fedheha ya Mahkama Kuu ndani ya mwaka 2003 yaliyoiingiza Hizb-ut-Tahrir ati kuwa ni taasisi ya kigaidi. Kwa mujibu wa maamuzi hayo ya kushangaza , Chama cha Kisiasa cha Kiislamu (Hizb-ut-Tahrir) kikanasibishwa rasmi kuwa ni chama cha  'kigaidi'. Kutokana na mbano na ukandamizaji wa sheria za Urusi dhidi ya wanachama wa Hizb ut-Tahrir , mara zote mashtaka huwa ya kubuniwa, sio kufuatana na msingi wa sheria za kinachoitwa 'misimamo mikali' ndani ya katiba, bali hutegemezwa kwa msingi wa sheria za 'ugaidi' ambapo  adhabu zake huweza kufika  hadi miaka ishirini jela.
Utekelezaji wa sheria hizo umepelekea mashtaka ya dhulma wazi wazi katika mikoa yote ya  Urusi ukiwemo wa St.Petersburg, ambapo makumi ya walinganizi wa Kiislamu wameshakamatwa ndani ya kipindi cha miaka michache iliyopita. Mnamo tarehe 24 Novemba vyombo vya ulinzi na usalama vilimtia nguvuni Bi Jannat Bespalova, mke wa (mfungwa) Issa Rahimov, mwanachama wa Hizb ut Tahrir na mmoja wa mahabusu aliyefungwa jela kwa miaka 12.  Bi Jannat Bespalova anatokana na asili ya kirusi, alisilimu na kubadilisha jina lake kutoka Alla na kuitwa Jannat. Mwanamama huyo nae amekamatwa kwa kufanya kazi na Hizb ut-Tahrir na kasekwa jela akichanganywa pamoja na wahalifu wengine. Ndani ya mwezi wa Januari 2018 ikaamuliwa kuongeza muda wa kumuweka mahabusu dada huyo kwa miezi miwili ziada, ikimaanisha kuwa atakuwa mahabusu mpaka tarehe 16/03/2018,  ambayo ndio tarehe ya kusikilizwa tena  kesi yake. Allah Taala anasema:
قَدْ بَدَتْ الْبَغْضَاءُ مِنْ أَفْوَاهِهِمْ وَمَا تُخْفِي صُدُورُهُمْ أَكْبَرُ قَدْ بَيَّنَّا لَكُمْ الآياتِ إِنْ كُنْتُمْ تَعْقِلُونَ (آل عمران: 118
"Tayari imeshadhihiri chuki yao katika vinywa vyao. Na wanayoaficha vifuani mwao ni makubwa zaidi. Tumeshawabainishieni ishara, ikiwa ni wenye kuzingatia" (Al-Imran :118)
Wanambambikizia mashtaka dada huyu mtoharifu kama walivyombambikizia mashtaka ya 'ugaidi' mume wake kabla yake na kumfunga jela, kwa mujibu wa  vifungu vya Katiba kutokana na kufanya kazi ndani ya chama cha Kisiasa cha Kiislamu cha Hizb ut Tahrir. Kama vile matamshi ya 'Uislamu' na 'siasa' yameshakuwa ni uhalifu! Russia daima imekuwa adui mkubwa wa Uislamu na Waislamu,  kwa kuanzia kushiriki  mstari wa mbele katika kuiangusha Khilafah Uthmania, kuuwa vizee na watoto ndani ya Syria kwa kuwapiga mabomu, kupiga marufuku vitabu vyenye thaqafa ya Kiislamu na  hadi kuwakamata Waislamu wasio na hatia yoyote.
Baadhi ya nyaraka za kihistoria zilizohifadhiwa ndani ya Urusi zinaonesha  wazi wazi  mateso ya kutisha ya nchi hiyo dhidi ya Waislamu.  Katika Makumbusho ya Kitaifa ya Sverdlovsk kuna nyaraka yenye agizo la kumuua bibi Kisanbek Pairasov, aliyekuwa na umri wa miaka 60 kwa sababu  tu karudi katika Uislamu baada ya kuritadishwa kwa nguvu kwa kuingizwa ndani ya Ukiristo.
Ilielezwa siku ya hukmu iliyotolewa tarehe 8 Februari 1739, "…..kwa kuwa (bibi huyo) alitoroka mara tatu, na kwa sababu ameutoroka ukiristo na kusilimu, anapewa hukmu ya kifo kwa kuchomwa moto. Pia mnamo tarehe 14 Machi mwaka huo huo, Jemedari Swimunov alisaini maamuzi katika kesi ya mwanamke wa Kiislamu "Bashkir" mwanamke aliyebatizwa kwa kuingizwa ndani ya ukiristo na kupewa  jina la Katrina,  na kisha akatoroka mara tatu katika mji wa Bashkiria, na kwa kuwa  alikwishauwacha ukiristo na kuingia katika Uislamu, hivyo anahukumiwa kifo kwa kuchomwa moto, ili adhabu hiyo iwe onyo kali kwa wengine, yoyote atakayetenda kama yeye siku za mbele ataadhibiwa kama hivyo".  (Chanzo: State Archives of the Sverdlovsk Oblast F 24.p.1.d.818.S.243).
Mwanamke huyo mzee wa Kiislamu alichomwa moto hadharani katika uwanja mkuu wa wazi ndani ya jiji la Yekaterinburg, mwezi mmoja tangu kuhukumiwa. Allah Taala anasema:
وَلاَ يَزَالُونَ يُقَاتِلُونَكُمْ حَتَّى يَرُدُّوكُمْ عَنْ دِينِكُمْ إِنْ اسْتَطَاعُوا (البقرة: 217).
Na wala hawatoacha kukupigeni vita mpaka wakutoeni kwenye  dini yenu kama wakiweza. (Al- Baqarah : 217)
Yanayojiri leo Urusi ni kama yale yale yaliyojiri miaka mia iliyopita. Urusi inawaandama Waislamu kwa sababu ya imani yao,  inaweka vizingiti kudhibiti kuenea Uislamu kwa jamii ya kirusi. Inapambana dhidi ya  kuvaa mitandio ya kujistiri (khimar) kwa wanawake wa Kiislamu mashuleni na vyuoni ili wasije wakawashawishi wengine. Na wale wote wanaoshikamana na Uislamu huoneshwa kuwa ni watu wa jamii ya kando. Ni kwa namna hiyo ndio maana Bi Jannat Bespalova akabambikiziwa mashtaka ati katenda matendo ya "kigaidi". Dhamira ya uwongo huo wa hatari ni kutoa vitisho na kuwakimbiza watu wasiingie ndani ya Uislamu, na pia wajiweke kando na fikra za Hizb ut-Tahrir, Chama cha kisiasa cha Kiislamu.
Ndani ya mwaka huu wanawake watatu wa Kiislamu waliwekwa chini ya udhibiti wa  mzingiro majumbani mwao(house arrest) katika mji wa Tatarstan kwa makosa ya kinachoitwa kutekeleza vitendo vya "kigaidi" , kwa sababu tu ya kushiriki kwao katika harakati ya Hizb ut-Tahrir. Jalada la kesi dhidi yao lilihusisha kufanya mikutano kuhubiri kuhusu Uislamu, na hili kiudhati sio uhalifu kamwe. Hata hivyo, mfasiri wa lugha ambaye alisikiliza  mazungumzo yao katika mikutano alipoona kumetajwa  baadhi ya Aya  na Hadithi sawa na Aya na Hadithi zilizomo  kwenye vitabu vya Hizb ut-Tahrir , hilo kwa uoni wao lilionekana ni jambo tosha kuwashtaki wanawake hao kwamba wametenda  matendo ya "kigaidi"!
Wanawake wote wa Kislamu waliobambikiziwa  kesi katika mji wa Tatarstan wameshaondoka Russia ili kuepuka mashtaka ya uwongo ya kunasibishwa na "ugaidi". Lakini dada yetu Jannat Bespalova, amekuwa mahabusu kwa miezi miwili, akichanganywa na wahalifu wa kikweli, akiwa hana kosa lolote ila kukiri imani yake kwamba Mola wangu ni Allah, hakuna Mungu anayestahiki kuabudiwa ila Yeye Allah.
Nchi ya Urusi ni adui wa wazi kwa Ummah wa Kiislamu, na inaandama mwenendo ule ule wa Maqureishi walipozuiya ujumbe wa Mtume mtukufu (SAAW) kuwafikia watu. Urusi inajidanganya  kwa kudhani kwamba itaweza  kuzuiya wimbi la kuenea haki ya Uislamu. Allah Taala anasema:
يُرِيدُونَ أَنْ يُطْفِئُوا نُورَ اللَّهِ بِأَفْوَاهِهِمْ وَيَأْبَى اللَّهُ إِلاَّ أَنْ يُتِمَّ نُورَهُ وَلَوْ كَرِهَ الْكَافِرُونَ (التوبة: 32
"Wanataka kuizima nuru ya Allah kwa vinywa vao, na Allah anakataa ila aitimize nuru yyake ijapokuwa makafiri watachukia" (At-Tawba : 32)
Namna bora zaidi ya kukabiliana na matendo ya Urusi dhidi ya mwanamama huyu dhaifu wa Kiislamu ni kufanya kazi  na Hizb ut-Tahrir  ili kurejesha tena dola ya Khilafah Rashidah kwa manhaj ya Utume,  kwa kuwa Waislamu wote wanaodhulumiwa kutokana  na Dini yao wanahitaji ngao iliyotajwa na Mtume SAAW:
« بِهِ وَيُتَّقَى وَرَائِهِ مِنْ يُقَاتِلُ جُنَّةٌ الْإِمَامُ إِنَّمَا »
"Kwa hakika Imamu ni ngao mtapigana nyuma yake na mtajikinga kwaye"
Ni kwa kuisimamisha ngao hiyo madhubuti pekee ndio tunaweza kumkomesha yoyote anaefikiria kuhujumu maisha au heshima ya mabinti wa Umma wa Kiislamu.
Enyi Waislamu, tunawalingania  kufanya kazi pamoja na Hizb ut-Tahrir kwa kupitia manhaj ya Mtume (SAAW) ili kuirejesha tena dola ya Khilafah. Hii ndio njia ya haki ya kupata radhi za Allah Taala. Aidha, kwa kusimamisha hukmu za Kiislamu kutawakomboa Waislamu na  sheria za kikafiri na uovu wa tawala dhalimu. Allah Taala anasema:
يَا أَيُّهَا الَّذِينَ آمَنُوا اسْتَجِيبُوا لِلَّهِ وَلِلرَّسُولِ إِذَا دَعَاكُمْ لِمَا يُحْيِيكُمْ وَاعْلَمُوا أَنَّ اللَّهَ يَحُولُ بَيْنَ الْمَرْءِ وَقَلْبِهِ وَأَنَّهُ إِلَيْهِ تُحْشَرُونَ (الأنفال: 24
"Enyi mlioamini! Muitikieni Allah na Mtume wake anapokuiteni katika jambo la kukupeni uhai. Na jueni kuwa Allah huingia kati ya  mtu na moyo wake, na kwa hakika  kwake Yeye tu ndio mtakusanywa " (Al-Anfal : 24)
Ewe Allah Taala, tunakuomba Umnusuru na Umrehemu dada yetu Jannat akiwa chini ya uangalizi wako, pia mnusuru na mrehemu  mume wake na Waislamu wote wasio na hatia ndani ya majela ya  madhalimu. Pia wape nusra Waislamu wanaodhulumiwa kwa sababu tu ya kubeba ulinganizi wa haki.  Ewe Mola wetu Allah Taala, tunakuomba uiharakishe siku ya ushindi uliyoiahidi, ambapo Waislamu watarejesha tena utawala wa Kiislamu ulimwenguni kwa nusra yako, na kwa ushindi huo tutawatia adabu wote waliohujumu kizazi cha Umma  wetu mtukufu. Ewe Mola wetu Allah tutakabalie duaa  yetu.    Amiin
Afisi ya  Habari- Hizb ut Tahrir Urusi
http://www.hizb-ut-tahrir.info/en/index.php/press-releases/russia/14904.html